Few German beer producers exploit the opportunities that social media marketing offers. Instead of using the great potential of social media channels and (live) streaming platforms to promote products with cool videos, emotional photos, podcast, we often see indoor shots from the brewery or boring to embarrassing poses.
Even the biggest companies missing their chance to create more awareness, expansion of reach and, above all, conditioning a positive attitude towards life with beer consuming. As masters of classic communication, beer marketers seem to rarely understand how to exploit their potential digitally. This is the conclusion of a market analysis, to be read in a contribution in the GETRÄNKE ZEITUNG (issue 07/2020)
"Every day, German brewers miss valuable opportunities to position their product among consumers together with influencers," says Sascha Schulz. "Coordinated influencer and blogger programs, which also involve sales partners and inns, are the absolute exception."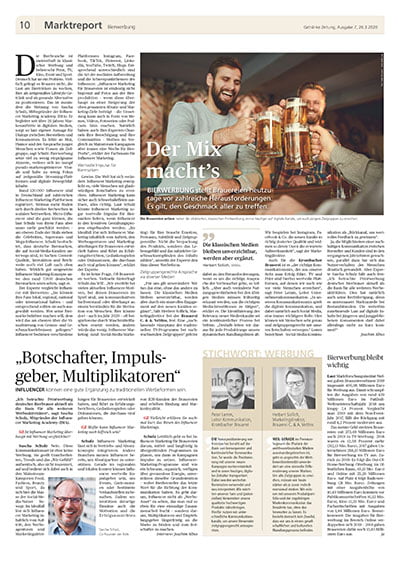 More than 120,000 influencers and bloggers can be contracted locally, regionally and nationally for collaboration in Germany. There are millions of talented international influencers. Beer as a lifestyle drink is promoted not only by "beer experts" together with partners from breweries abroad, but also finds interesting approaches in the categories of sports, food, beauty and travel.
Sascha Schulz, co-founder of the Influencer Marketing Academy (IMA), describes how modern beer marketing can be implemented with bloggers, influencers and key opinion leaders in a contribution in issue 07/2020 of GETRÄNKE ZEITUNG.